Изминало събитие
[Webinar] IT Team Leads: Working Backwards in the Amazon Way
Абонирай се за събития
И не изпускай това, което те вълнува.
Абонирай се
Виж следващо събитие
Потребителска група: IT Team Leads
Към събитието
Абонирай се за събития
И не изпускай това, което те вълнува.
Абонирай се
Виж следващо събитие
Потребителска група: IT Team Leads
Към събитието
За събитието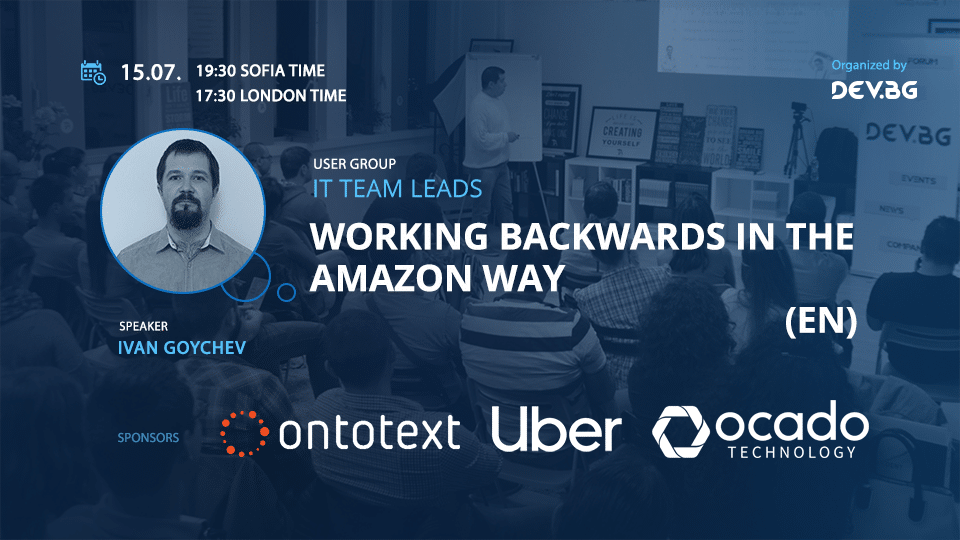 *The event will be in English.
This event is part of the DEV.BG IT Team Leads user group.
Program:
The talk is for Leaders, Product and Software people, with whom I want to share first hand experience of the "Working Backwards" process we used at Amazon. For some it sounds counter-intuitive, for others it is straightforward, so we'll talk about why:
>>> Why starting with writing the Press Release and FAQ;
>>> Why writing the customer story should be first;
>>> What are the key questions to ask and answer in FAQ;
>>> Working backwards from the engineer point of view;
>>> Why it is faster and safer actually;
>>> Q&A part.
Speaker: Ivan Goychev
>>> Ivan has 15 years of experience in leading software technology startups from idea to happy customers;
>>> His last startup was actually inside Amazon AWS where in the last 3 years he scaled his team and products for supporting the global AWS operations;
>>> Previously, he was VP Technology of the travel startup VAYANT, bringing the technology excellence to successfully service customers like Lufthansa and Skyscanner, which led to acquisition by PROS;
>>> Now back in Bulgaria, Ivan is CTO of Cobuilder joining the mission to digitize the collaboration in the construction industry.
Supported by: Ontotext & Uber & Ocado Technology
Ontotext is a global developer of semantic artificial intelligence based technologies that apply to the management and use of data sets and textual analysis.
Uber develops the largest technology platform that enables the transportation of people, cargo, shipments and food. It is one of the most advanced technologies for autonomous vehicles. The company is historically one of the fastest growing technology organizations in the world.
Ocado Technology develops world-class systems and solutions in the fields of robotics, machine learning, simulation, forecasting and routing, real-time control and more.
This is an online event. Register and few hours prior to the event you'll receive an attendance link.

User group: IT Team Leads
Organized by DEV.BG
July 15th, 7:30 pm